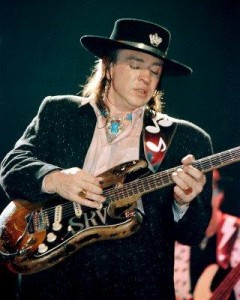 Stevie Ray Vaughn
October 3, 1954 – August 27, 1990
Stevie Ray Vaughan would have been 57 years old today, October 3rd. His music, his amazing guitar playing, his style, are a milestone in music history. Not many people can listen to his music and not tap a foot or become lost in his Texas-fusion of blues and rock.
Truly one of the greats, he is ranked right up there with the best of the contemporary rock and blues musicians… Hendrix, Clapton, Richards, Page, Cooder, King, Allman, Santana, Beck, and a few others. I'd easily rank him in the top five rock and blues guitarists.
Although he died a tragic death in a helicopter crash, he lives on through his amazing music.
Listen to "Pride and Joy"
Stevie Ray Vaughn – Pride And Joy
Listen to "Little Wing"
Stevie Ray Vaughn – Little Wing