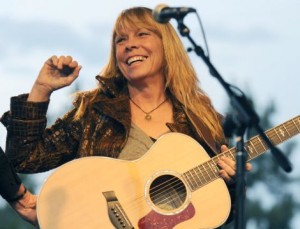 Rickie Lee Jones
November 8, 1954 – Still Rockin'
Rickie Lee Jones (born November 8, 1954) is an American vocalist, musician, songwriter, and producer. Over the course of a three-decade career, Jones has recorded in various musical styles including rock, R&B, blues, pop, soul, and jazz standards.
Rickie grew up in the wide open spaces of Arizona, a powerful imagery that would haunt much of her writing throughout her life. Her early childhood was spent in the company of imaginary friends. Her elder sister was married at the age of 15, while her elder brother was severely hurt in a motorcycle accident at the age of 16. The young Rickie Lee struggled socially, the itinerant outside, the family moving and changing schools every year or two. Luckily she was a gifted student, though teachers reported that she 'daydreamed' all day. It was hard enough being new, but having a name like 'Rickie' put her on the defensive in each new school. Like a boy named Sue, perhaps, Rickie got tough or died and her sense of self was indisputable. This uniqueness of character would eventually find a home on stage.
In 1977 she was noticed by rock journalist/attorney Stann Findelle who wrote about her in Performance Magazine and also helped her with some of her publishing. It was in 1978 that her faithful jack-of-all-trades on Westminster Avenue in Venice, offered to manage her, and in a few months had Bonnie Shiftman photographing her, Owen Sloan as her attorney, and major labels coming to see her three showcase performances, culminating in her being signed by Warner Bros. Records after a bidding war between three labels. The showcases were 30 minutes long, including "Easy Money", "The Moon Is Made of Gold", "Chuck E.'s In Love", "Somewhere Over the Rainbow" as well as a few racy cover tunes. Warner Bros. knew Jones was "the real thing" and obtained a spot for her on Saturday Night Live the week of her release. They had also filmed what came to be an early music video — a twelve-minute, three-song movie, in which Jones was depicted as kind of girl next door street character. With Time magazine dubbing her "the Duchess of Coolsville" in its review of her first show, Jones' image was solidified. Saturday Night Live portrayed her amidst garbage cans. Five months later she sold out two shows at Carnegie Hall.
Listen to "The Low Spark of High Heeled Boys" sung by Rickie (Song by Traffic):
05_The Low Spark Of High Heeled Boys
Rickie Lee Jones: Chuck E.'s In Love