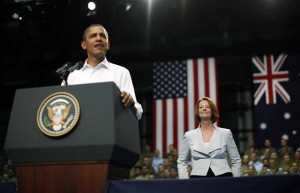 Down Under, Obama Has a "Chinwag"
November 18, 2011
By Ben Zimmer
Visiting Australia earlier this week, President Obama broke the ice by injecting some Australian slang into his public speeches. He used a selection of Aussie-isms like chinwag and ear-bashing for comic effect, but it's probably a good thing that he didn't go overboard by trying to mimic a broad Australian English accent (often called "Strine"). British Prime Minister David Cameron, meanwhile, wasn't so lucky: he got into some hot water for an ill-advised attempt at Strine.
At a state dinner at Parliament House in Canberra, Obama got the crowd laughing by peppering his speech with local slang:
As many of you know, I first came to Australia as a child. But despite my visits, I have to admit I never did learn to talk "Strine." I know there is some concern here that your Australian language is being Americanized. So perhaps it's time for us to reverse the trend. Tonight, with your permission, I'd like to give it a burl.
I want to thank the Prime Minister for a very productive meeting that we had today. I think she'll agree it was a real chinwag. When Julia and I meet, we listen to each other, we learn from each other. It's not just a lot of earbashing. That's a good one — earbashing. I can use that in Washington. Because there's a lot of earbashing sometimes.
In case you couldn't figure it out from context, give it a burl means "give it a try"; a chinwag is a good discussion; and earbashing is tedious or scolding speech. Obama closed by saying:
The alliance between the United States and Australia is deeper and stronger than it has ever been — spot on — cracker-jack — in top nick.
Read the complete article here: http://www.visualthesaurus.com/cm/wordroutes/3042/